About Us


Gif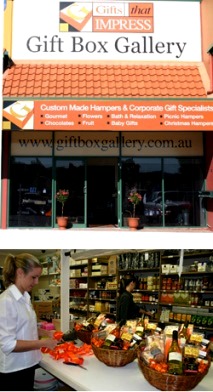 t Box Gallery began in 1998 as the brainchild of florist and creative genius, Donna Burton. Seeing a gap in the market, Donna came up with the unique concept of creating a one-stop gift shop for customers to send beautiful gifts and everlasting memories. Gift Box Gallery tailor gifts to suit any personality, mood, theme and/or occasion. Adding a touch of style and elegance to our hamper and lifestyle packages guarantees that each gift will be one to remember. Commitment to providing excellent customer service and customer relations ensures your order will be fulfilled to the highest of standards every time.
In additional to special occasion personal gifts, Gift Box Gallery also provide gifting solutions for corporate clientele including gifts for Real Estate Settlements, Boat & Building handovers, Thank you gifts, special event volume orders and promotional products (coming soon). No order is too big or small for Gift Box Gallery!
Over the 20+ years of operation, Gift Box Gallery has moved through the northern Gold Coast corridor being stationed at Oxenford 1998-2002, Helensvale 2002-2012, Calypso Bay Jacobs Well 2012-2015, Upper Coomera 2016-2020 and now at conveniently located at 18 Ferry Street Nerang.
In 2016, Donna retired from Gift Box Gallery after 18 years or operation. Jessica Bennett, Donna's daughter and 2IC of Gift Box Gallery was only too thrilled to accept the role as new owner. With a Bachelor of Business & Marketing from Griffith University, Gold Coast '07, Jess brings to Gift Box Gallery exceptional customer service and has an absolute passion for the business.
Today, Gift Box Gallery is a proud second-generation hamper company operating as a bricks-and-mortar and online retailer delivering exceptional hampers Australia Wide. Carrying over two decades of knowledge, experience, loyal customer following, and a solid foundation, Jess and team would like to welcome you and hope you enjoy your shopping experience with us.